The Original and #1 Website for Security Guard Training
Online Security Guard Training and Career Center
Welcome to Security Guard Training Headquarters! We have everything you need to make your life easier as you begin your career as a security guard officer. State specific training requirements, a step-by-step hiring process, potential employers and interviews to help you get hired are just some of the helpful things you'll find here.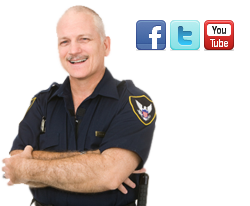 Course Information:
Level II – $45
Non-Commission (Unarmed) Security Officer Training
(6-Hour Class)
Register for the Next Upcoming Classes Below

The Level 2 course introduces you to the industry; will advise you on the laws and regulations you must follow; and provides you with a solid foundation and starting point of what private security is all about. You will be given basic instruction on licensing, regulations, procedures, and operations of a security officer/company, report writing, and responding to emergencies, among many other topics. All students, upon successful completion of the class, will receive a certificate of completion (accepted by the state of Texas and every licensed security agency), in order to process your state license.
COURSE POINTS
DPS-RSD Regulations/Actions, Role of Security Officers
Police Interaction & Security Conflict Resolution
Use of Force, Detainment Vs Arrest
Radio Procedures, Report Writing, & Observations
Response to Emergencies, Applicable Penal Code Studies
COURSE INCLUDES
Official State Training Manual
Official State Exam
Additional Classroom Handouts
PowerPoint Presentation
Training Videos
Use of many Training Aids
Professional Certificate of Completion
Top 10 Security Interview Tips That Will Get You The Job TODAY!
Learn exactly what security
guard employers want to
hear from you!
Download this FREE eBook
now by entering your email
address below:
Please make sure that you have filled in the fields correctly!