The Original and #1 Website for Security Guard Training
Online Security Guard Training and Career Center
Welcome to Security Guard Training Headquarters! We have everything you need to make your life easier as you begin your career as a security guard officer. State specific training requirements, a step-by-step hiring process, potential employers and interviews to help you get hired are just some of the helpful things you'll find here.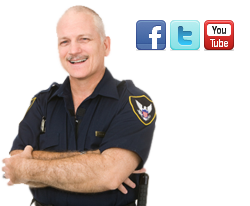 Course Information and Registration
G License (Firearms training) – $225.00
Armed Security Guard License
28-Hour Course
Course Info:
The Certificate of Completion for successfully completing this course will be submitted along with the Department of Agriculture, Division of Licensing, Statewide Firearms "G" License Application. When the student receives the Class "G" Security License he or she will then be able to work security or as a private investigator in an armed capacity.
Register for the Next Upcoming Classes Below

Statewide Firearms Class G License Course Overview
Chapter 493, 775, 776, 790 Florida Statutes and Chapter 5N-1, Florida Administrative Code
Legal Issues: Liability
Firearms Safety
Marksmanship Fundamentals
Firearms Mechanics
Weapon Malfunctions
4-Step Draw
Weapons Cleaning
Range Qualification
Items required for all classes are as follows:
Bring a notepad, pen & highlighter for course notes
No Ammunition allowed in Classroom, RANGE ONLY!
No open shoes. Sneakers or boots only
Long pants with strong belt – (i.e. jeans, duty or tactical pants) – *NO SHORTS OR SWEAT PANTS ALLOWED*
Crew neck t-shirt, dress or polo shirt – *NO TANK TOPS OR LOW CUT SHIRTS ALLOWED*
If you wear glasses please bring them to class
Firearm (Available for rent $10)
150 Rounds of Ammunition (RANGE DAY ONLY)
If you bring your own firearm you MUST have a min. of 3x Magazines (Semi-Auto) or 3x 6 Round Speedloaders (Revolver)
Top 10 Security Interview Tips That Will Get You The Job TODAY!
Learn exactly what security
guard employers want to
hear from you!
Download this FREE eBook
now by entering your email
address below:
Please make sure that you have filled in the fields correctly!